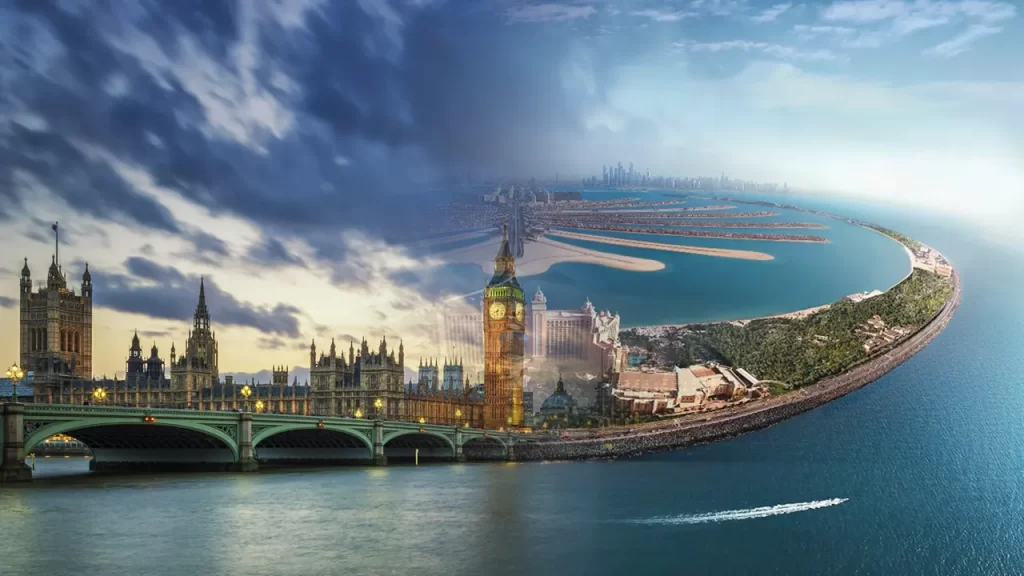 Are you ready for the adventure of a lifetime? Dubai, the dreamy city, is calling your name. We've put together a handy travel guide for your trip from London to this luxurious paradise. You can experience the very best that Dubai has to offer, from luxury to adventure. So fasten your seatbelt as we embark on this incredible journey.
Table of Contents
Flying in Style with Emirates Airways
Your adventure begins the moment you step onto a Emirates Airways flight from London to Dubai. Emirates Airways is one of the best business class experiences worldwide.
They've got comfy lie-flat beds, top-notch service, and delicious food. Consider asking about upgrade options at the counter for a more luxurious journey.
Travel Cost: 2,399 AED – Economy class. 12,499 AED – Business class. 32,599 AED – First class
Arrival and Uber Convenience
When you land in Dubai, your Google Fi-equipped phone becomes your reliable travel buddy. No SIM card switching hassles. Just order an Uber, head straight to your hotel, and soak in Dubai's luxury.
Dune Buggy Adventures
Dubai isn't just about luxury; it's an adventure lover's paradise. Waste no time and head straight to the desert adventures for starters. Riding a dune buggy on those golden dunes? It's a total rush! Picture this: the peaceful desert silence, interrupted only by your engine's roar. And don't miss out on sandboarding – it's a thrill you've got to experience!
Tour Duration: 1 Hr.
Dune Buggy Booking Cost: 3,599 AED.
Sky Villa Bliss
Once you've had your desert adventure fix, it's time to kick back at the Five Star Jumeirah Village Hotel. Go all out with a sky villa, complete with a private pool. The hotel's interior design and amenities are on par with the Cosmopolitan in Vegas, making it the perfect spot to unwind.
Daily Rent: 299-949 AED.
Navigating Dubai's Unique Rules
Dubai's Middle Eastern culture has its own set of rules, which it's crucial to be aware of. Significant changes in laws now permit unmarried couples to stay together. Alcohol consumption in licensed establishments is allowed, and starting businesses without a co-signer. Do your research to ensure a smooth visit.
Exotic Car Adventures
Dubai's love for luxury extends to its car culture. Don't miss the opportunity to rent an exotic car from any car rental marketplace. Whether it's a Lamborghini or a Rolls-Royce, you'll feel like royalty behind the wheel. Experience the thrill of driving a Lamborghini in sports mode. Know that there might be a security deposit required to rent a luxury car.
Starting Rent for a Lamborghini Urus: 2,999 AED.
Indulgent Brunch
Keep the luxury vibes going in Dubai with brunch at the Four Seasons. This restaurant has put together a mouthwatering experience. Featuring artsy cocktails and divine dishes that'll make your taste buds dance. You can have a decent brunch with your friends under 500 AED.
Yacht Rental Dubai with Centaurus Charter
Here's a secret: Centaurus Charter is one of the places with the best value for money to rent a yacht in Dubai. Book a 36ft yacht for just 459 AED per hour. Unless if you want to go luxurious then consider booking a 56ft yacht for 999 AED per hour. Sail during the day and at night to witness the city's attractions.
Charter Duration: 3(+1) Hrs.
Yacht Booking Cost: 1,379 – 2,999 AED.
The best part about renting a yacht with Centaurus Charter is that you get an hour free if you book for at least 3 hours.
Soaring Above Dubai in a Helicopter
A 12-minute helicopter ride over Dubai offers breathtaking views of the city. The helicopters are top-notch, complete with comfortable headsets. It's an absolute must for anyone visiting Dubai.
Flight Duration: 12 Mins.
Helicopter Booking Cost: 699 AED.
Exploring the History
Balance luxury with culture by exploring the old part of Dubai known as "Old Souq". Savor the spices, flavors, and traditional Arabic cuisine. Don't leave without picking up some traditional attire as a souvenir.
Expenses: 299 AED.
Frequently Asked Questions (FAQs)
Is Dubai safe for travelers?
Yes, Dubai is generally considered safe for travelers. It has a low crime rate, and the local authorities prioritize the safety of tourists. However, it's always advisable to exercise standard precautions and be aware of your surroundings.
What's the best time to visit Dubai?
The best time to visit Dubai is during the winter months, from November to April, when the weather is pleasantly cool. Summers can be scorching, with high temperatures.
Are there any cultural norms to be aware of in Dubai?
Yes, Dubai follows Islamic traditions, so it's essential to respect local customs. Dress modestly in public areas, particularly when visiting religious sites. Public displays of affection should be kept to a minimum.
Do I need a visa to visit Dubai from London?
Yes, Indonesian citizens typically require a visa to visit Dubai. You can apply for a tourist visa in advance or upon arrival, depending on your nationality and the purpose of your visit. Check with the UAE Embassy or Consulate for specific visa requirements.
What currency is used in Dubai?
The currency used in Dubai is the United Arab Emirates Dirham (AED). You'll find ATMs readily available throughout the city for currency exchange.
Conclusion
In conclusion, your journey from London to Dubai promises an unforgettable adventure. In just 48 hours, you'll experience the best of Dubai, from luxury to adventure. Dubai is a city where opulence and thrill coexist harmoniously. We can't wait for you to embark on this incredible journey. Until then, prepare for an adventure of a lifetime!